Field Notes:
Singapore and the World
Date: 30 Oct 2020
Location: Singapore
By: Felix Ng (Anonymous)
In late 2015, I had two interesting calls.
The first was with John C. Jay, President of Global Creative at Fast Retailing, and former Global Executive Creative Director of Wieden+Kennedy. The second was with Chris Riley, who was overseeing global strategy at UNIQLO and other brands under Fast Retailing. At the time, we had already been collaborating with Chris for several years with his consultancy, Studioriley.
John and I first met when we interviewed him for
Bracket
, then in person when I visited the W+K office in 2012 when we held
A Design Film Festival
at Portland Design Week. Over two separate hour-long calls, John asked a series of questions: on what I thought was the perception of UNIQLO in Singapore and Asia, and also about the state of retail, art and creative culture, independent businesses in Singapore, and who was doing interesting work in the region. I didn't think too much into it then and thought he was just curious. I only realised that these calls were an "interview" when Chris Riley asked for a chat a few months later in December of 2015.
Our calls with Chris are usually under 15 minutes. Uncomplicated and succinct, like how he writes and how we design. It's probably why we have been able to work together for 8 years now. The call in December 2015 was over 90 minutes long and started with "UNIQLO is opening a Global Flagship Store in Singapore. Would you like to work on it?"
My initial thoughts were:
1. We are not an advertising agency.
2. Won't the incumbent agency be working on it? and
3. How can I help?
For the rest of the call, Chris shared the vision that he and John had for the brand, the flagships, and what they thought we could help with and why. And that the first step would be to work on Singapore's research and insights report. These city reports would then be shared with the global team in Tokyo, Japan for them to better understand the country. It would also be turned into a creative brief. My role was to collaborate with Chris on the research and be the lead creative director for the project by curating and assembling a Singapore-based team for the project.
The research was conducted between February and March 2016, and involved interviews with everyday Singaporeans based in Singapore and abroad, local expats, entrepreneurs, and more. We worked with documentary street photographer,
Mindy Tan
to capture scenes of people on the main shopping district on Orchard Road and customers shopping in stores, to present an overview of Singapore's "fashion aesthetic".
Here's what we saw.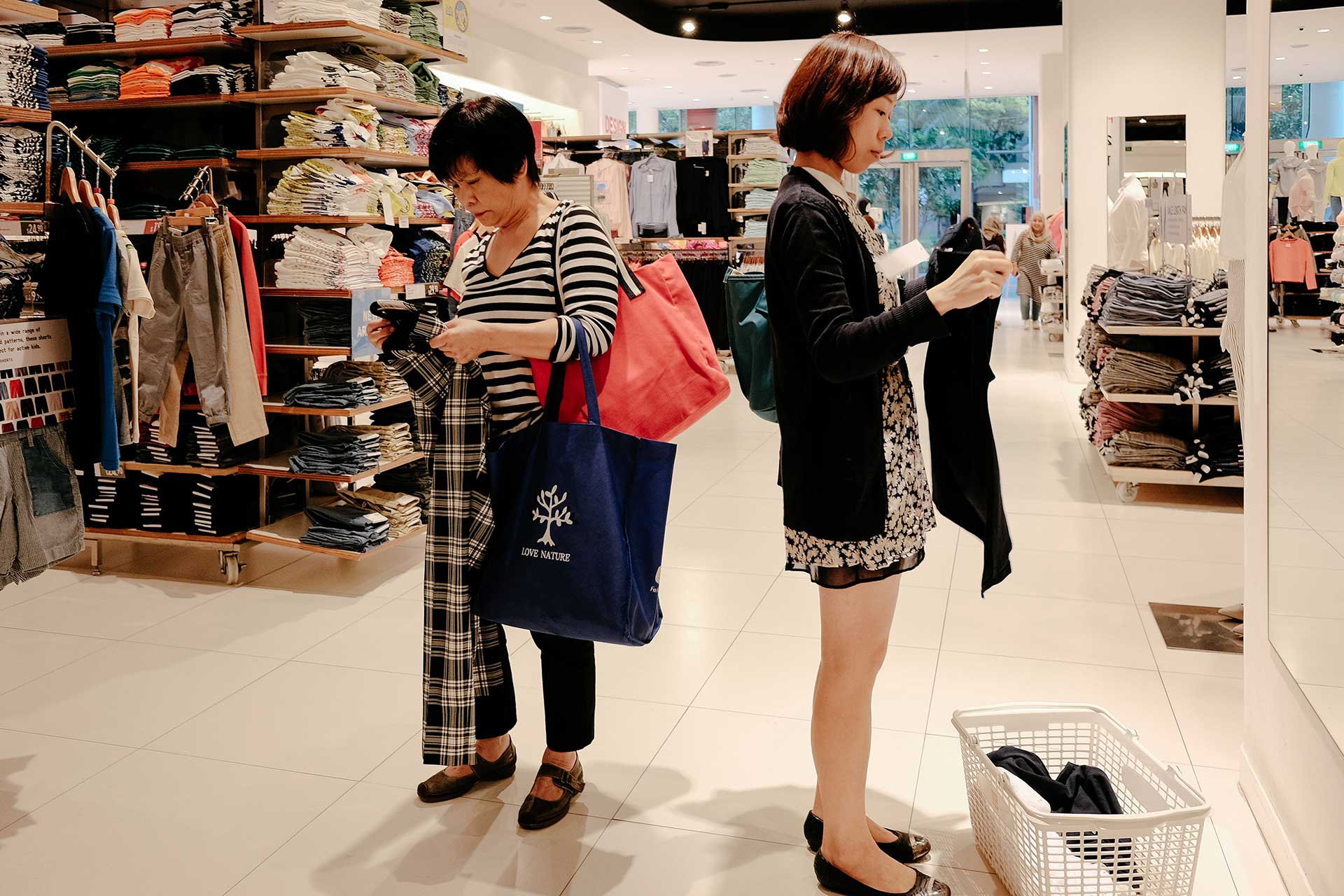 From the research, we discovered several insights. The key: that the world is changing and many challenges face Singapore: low birth rates means an aging population, competition from other Asian cities means Singapore needs to change their game, be more international and channel the city state's world famous work ethic to entrepreneurial and creative ambition. We observed how young Singaporeans were rising to the challenge, by shifting the city's creativity and finding new ways to challenge our history of conformity. In order for us to connect with these young Singaporeans, we must be part of their own connection to the world. Then, the Uniqlo brand had a low meaning, it was a place for simple clothes. There was an opportunity for the brand to be a part of something bigger, the internationalisation of Singaporean identity.

Singapore, World Connections. This was the insight and strategy for the marketing launch of Uniqlo Singapore Global Flagship Store. To create a place that represents collaboration between Uniqlo, Singapore and the World. And at the same time, to add originality to its location on Orchard Road which had suffered for being too homogeneous. From the briefing, my role was to turn strategy into creative direction. I had to come up with a marketing plan and concept for the store and launch. I thought it could be interesting to have the store and campaign co-created with the community — collaborating with creative talents in Singapore to produce the store experience and launch campaign. I then assembled a team made up of an advertising agency, design studio, illustrators, musicians, technologist and motion graphics designer to work on the project from March to September 2016.

UNIQLO Orchard Central, Global Flagship Store opened on September 2 2016.