Field Notes:
A Design Film Festival
in Bangkok
Date: 06 Nov 2020
Location: Bangkok, Thailand
By: Felix Ng (Anonymous)
What can be said about Bangkok that hasn't been said before? It has been the world's most visited city 4 years running, and is loved by travellers around the world for its hospitality, food, and free-spiritedness.
Over the past decade, I have visited Bangkok many times — to the point where my partner would say that I work in Singapore and live in Bangkok. What I love about the city is their unique balance of having chaotic energy and a laid-back vibe. A person we interviewed for a research project in 2017 said "There are rules but people don't care. If you live here [in Bangkok] for a month, it will be more comfortable than if you live in Singapore. It is very relaxed here."
It is an unpredictable city that offers surprising new innovations in ways that are rarely obvious if you visit just once or twice. In recent years, there has been a rise in independent spaces created by architects, entrepreneurs and (real estate) developers that bring local brands and restaurants together, often resulting in new ways of experiencing art, music and design.
Shopping in Bangkok was a completely different experience for me. A person we spoke to shared how office workers in Thailand spend their lunch hour: "20 minutes eating and 40 minutes shopping." This is why you will often see food stores and shops set up at the atriums and entrances of office buildings, selling a wide range of street food and lifestyle products from clothes, beddings, and accessories, from the late mornings till late afternoon.
The Thais are also some of the most fashionable and stylish I've seen in Southeast Asia. Despite the humidity, they put great effort into dressing up, in various styles. Being presentable is a sign of respect for each other.
They are famous for being easy-going, patient and adaptable — a result of their Buddhist roots and values, and also their way of being in harmony with one another. They care about people and go out of their way to not do anything that might harm others. They are polite and respectful, and avoid being confrontational. Being too honest is seen as a form of aggression and should be avoided.
These insights collected over the past decade have formed a deep feeling of respect and admiration I have for the city and its people. So when we had a chance to do work in Bangkok, I was thrilled.
A Design Film Festival in Bangkok
In 2010, 2015, and 2017, we held
A Design Film Festival (DFF)
in Bangkok. The 2010 edition was hosted by architecture magazine, Art4D. Mongkon Ponganutree, who was then editor-in-chief of the magazine, wrote to us in early 2010 asking if we would be interested to bring DFF to Bangkok. To be honest, when we started DFF in Singapore back in 2010, it never crossed our mind that it could be an event that would travel the world. We didn't even think it would happen again after 2010 and that the Bangkok edition was going to be a one-off project.
The intention behind DFF was to look at design and its subculture through the lens of film, to help non-designers to learn more about design through a medium that is perceived as entertainment, and to help elevate design literacy in Singapore. When interest from Berlin, Seoul, Taipei, and Bangkok started coming in, we realised there was a demand for an accessible way to talk and learn about design beyond Singapore too.
The event was held at SF Central World from 22 – 28 November 2010, and featured the entire line-up of 8 films from DFF 2010: including
Visual Acoustics, Herb & Dorothy, Milton Glaser, Rem Koolhaas, Beautiful Losers, Extended Play, Kraftwerk,
and
J-Star
. Sadly, I lost all the archive and photos from the event during a routine backup of hard drives a few years ago.
A few years passed and when I was in Mumbai for a private screening of the film
Dior and I
for Christian Dior India in February 2015, I got an email from Pimpun Sungkorn of Thailand Creative and Design Center. He asked if we would be keen to collaborate on bringing DFF to Bangkok again. My answer was an immediate yes. I had heard from a friend, Satoru Yamashita from +81 Magazine, on how well his collaboration with TCDC was in 2014. They had hosted Graphic Passport, a magazine conference organised by +81.
Planning for the event moved forward very quickly, all thanks to Ploy Wongondee, who was the producer and project lead for the Bangkok edition. She single-handedly managed the venue, film ratings, translations to Thai and subtitling, and also oversaw the marketing and publicity for the event. Till this day, I am still amazed by her ability to do so much, so well.
The 2015 edition was held at SF Central World from 18 ­– 26 July 2015 and featured 10 films that Ploy and myself co-curated from the 2014 and 2015 programming. Here is the trailer/opening titles for the 2015 Bangkok edition, and photos from the event.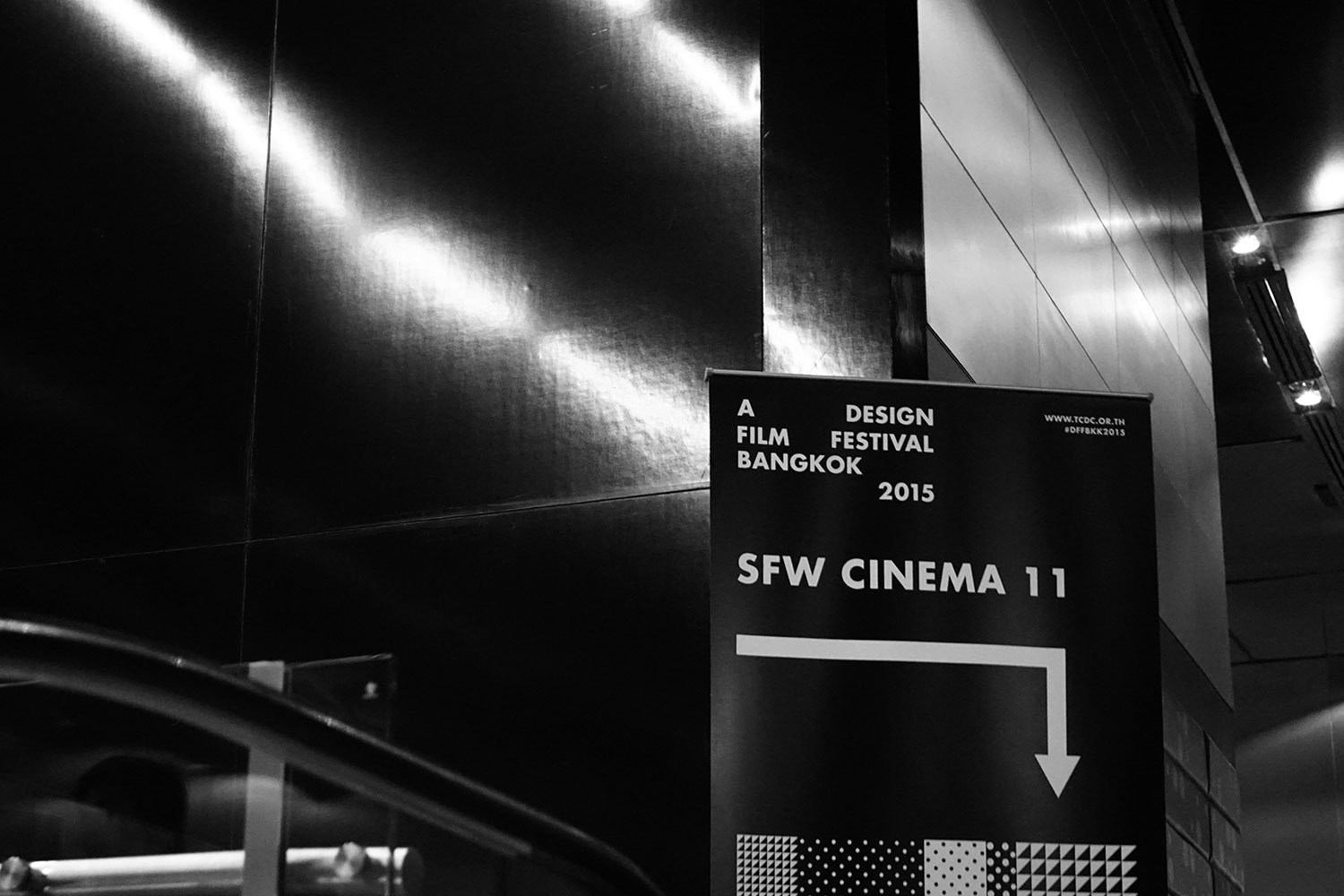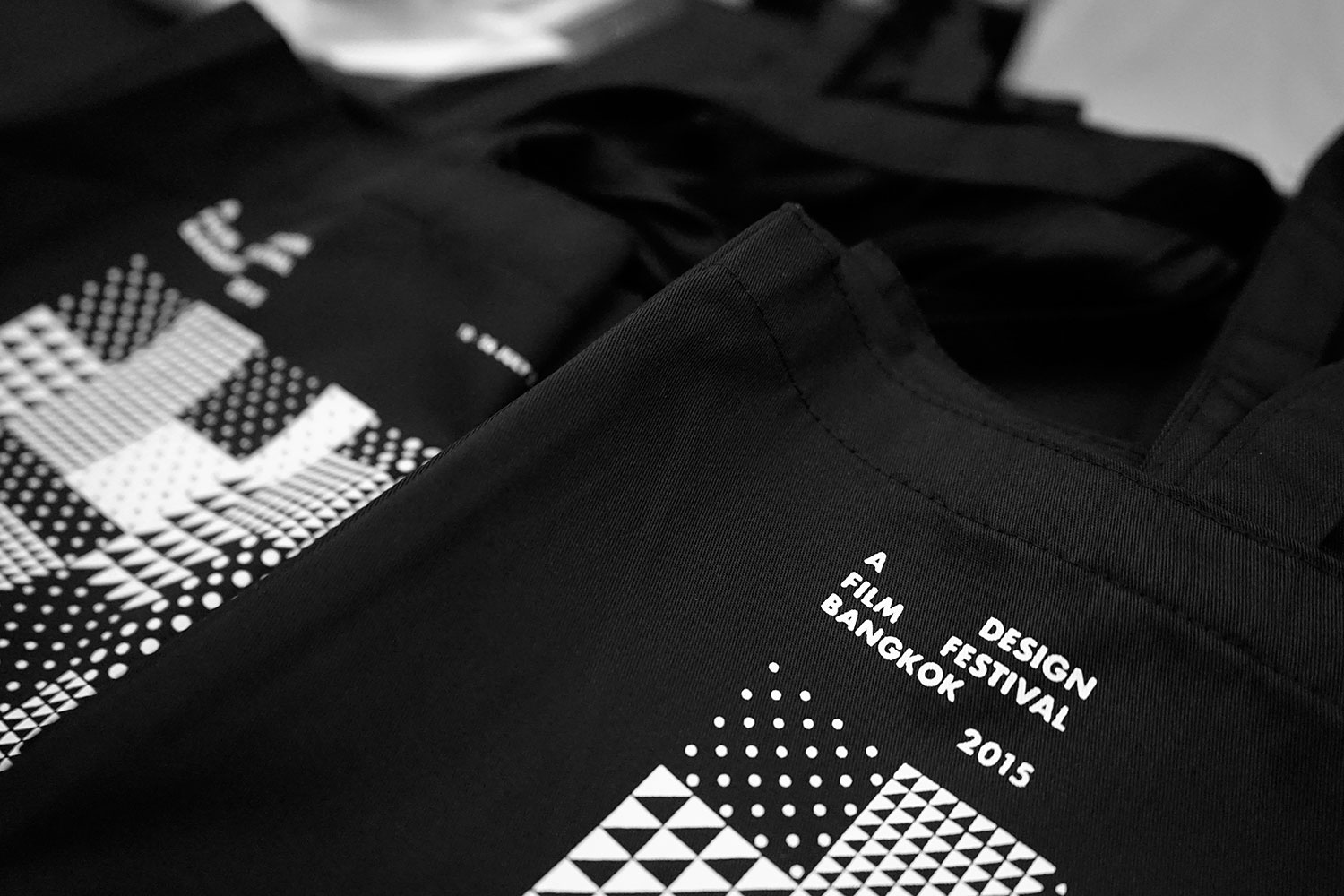 In 2017, we partnered TCDC again to bring
A Design Film Festival back to Bangkok
. This time around, the event was held at the legendary 1000-seater Scala Theatre in the Siam Square shopping area on 25 – 26 February and 4 – 5 March . This hidden gem, located in a small alley off the busy main shopping district, opened in 1969 and was the last stand-alone cinema in Bangkok. Sadly, Scala Theatre closed this year on 5 July 2020. The 2017 festival in Bangkok also featured a collaboration with members of the
Thailand Graphic Designers Association (ThaiGa)
, to produce a series of tote bags that were exhibited and available for purchase during the event. The designers included:
Techit Jiro
,
Manita Songserm
,
Nattapol Rojjanarattanangkool+PRACTICAL
, and
PIE Maker
.
Here is the trailer for the 2017 edition and photos from the setup and event at Scala.